The snow arrived last week and after a day of reading and watching movies, I went into cleanup mode. The Holidays had left me with wine bottles and corks, along with many great memories with family and friends.I was getting ready to send the bottles and corks to the trash and thought, wait, I should Pinterest Winecork Ideas . I am so glad I did. I found many ideas.
With Valentines Day on its way, my first project using the wine corks was to make hearts. I got so excited how it turned out, I have been calling my girlfriends asking them to save their winecorks for me. So…… three days snuggled and warm at home, while the snow was falling, I was reading, Pinteresting,and then creating the cutest little Valentine gift ____EVER ! I even made valentine stampers for my granddaughter . She loves them. I shared the instructions below .
Here is how you can get started to make your Heart !
Supplies needed:
3 wine corks
Hot glue, glue gun
Your choice of craft paint
Paint brush
Ribbon for hanging
Serrated knife
Directions:
1. Begin by taking your knife and cutting the wine cork into 3rds or 4ths if you are able. Cut slowly and
carefully.
2. Arrange the corks into a shape of a heart. Arrange until you feel good about the shape and
proportions.
3. Add a dab of glue in between each cork and secure it to the cork next to it.
4. Continue until all of your corks have been glued and your heart has taken shape.
5. Apply a coat of paint to the corks. We chose red and applied it lightly for a worn and rustic look.
6. Once your paint is dry, tie on a ribbon for hanging.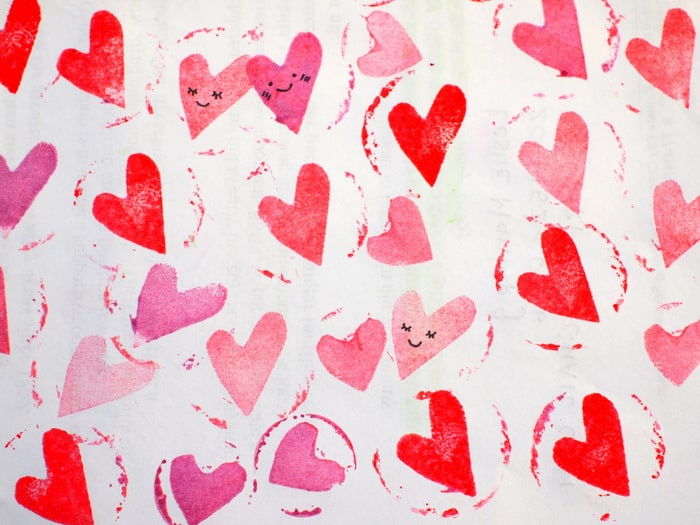 Wine Cork Stampers
What you need.. little foam hearts, glue, corks, stamp pads. and lots of things to stamp.
Directions:
1. Begin by adding a dab of glue to the back of the small foam heart, press it to the top of the wine cork.
2. Repeat this step adding one or two more hearts directly on top of the first. You want to layer them so they are raised up from the wine cork.
Note: For ours we used the smallest hearts in the bag. You can try using various sizes so you can get varying sizes of stamps. Just apply the hearts as we did here, using a little more glue.